Book reviews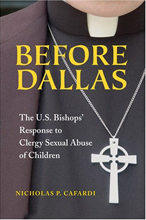 Before Dallas
By Nicholas P. Cafardi (Paulist Press, 2008)

Anyone who has been confounded by the church's mishandling of the child sex abuse crisis will benefit from Nicholas Cafardi's detailed account of the church's response prior to the 2002 approval in Dallas of the U.S. bishops' Charter for the Protection of Children and Young People.
As Cafardi, both a civil and canon lawyer, points out, concern about sexual abuse was not born of the 20th century. Collections of canon law have long had provisions on how to handle such offenses by clerics. Why these were not followed, and why other roads were taken instead, serve as the core of the book.
Cafardi, one of the original members of the National Review Board set up by the bishops to deal with the sex abuse crisis, minces no words in describing the errors made by the bishops. At the same time he offers a balanced critique, noting the excellent policies enacted in 1992 by the Archdiocese of Chicago under the late Cardinal Joseph Bernardin.
Cafardi analyzes the two most basic issues of the crisis: the failure of the canonical penal system and the preference for the "treatment option" for abusers. The section on canon law is difficult at first, but Cafardi does a good job of making it clear. Cafardi goes on to explain why the "treatment option" seemed like a good idea to bishops and providers, and how it worked to their mutual benefit. Finally Cafardi points out the difficulty U.S. bishops had with Roman authorities in the implementation of effective policies.
Before Dallas echoes the frustrations expressed by many Catholics since the beginning of this crisis. Parents want their children to trust priests. When evidence of sexual abuse comes to light, they want other children to be protected. Often they were assured that the abusing priest would be kept from hurting others. But, as Cafardi demonstrates, all too often that promise was not kept. In fact the concern was at times greater for the abusers than for the victims.—Karen Dix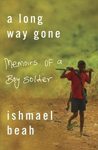 A long way gone
By Ishmael Beah (Farrar, Straus, and Giroux, 2007)
"This isn't your fault, you know. It really isn't. You'll get through this." Fifteen-year-old Ishmael Beah constantly hears these reassurances from staff members at a rehabilitation center for former child soldiers in the African country of Sierra Leone. But Beah's frequent violent outbursts quickly illustrate an intense view of the difficult process of deprogramming a child's mind that has been brainwashed "to kill or be killed."
Beah is an eloquent writer who paints clear and poignant pictures of each circumstance he encountered on his journey as a boy who went from fearing the violence of the civil war in his country at age 12 to reveling in the torture of other human beings after being recruited by the government army at age 13.
Fortunately Beah did not write A Long Way Gone: Memoirs of a Boy Soldier solely about his experiences killing rebels with an AK-47. Instead Beah spends the first half of the book letting us see the innocence of a child wandering aimlessly through the forest, trying to escape the brutality of rebels who are raiding villages. We feel his loss when his parents and two brothers are killed by the rebels. We are amused by his affinity for memorizing the lyrics of American hip-hop songs and reciting the monologues from various Shakespeare plays.
Beah's gift for expressing his thoughts becomes his ticket out of Sierra Leone. The rehabilitation center's director asks him to give talks to visitors at the facility about the plight of child soldiers in Sierra Leone, and he is eventually asked to speak before the United Nations in New York City, where he lives today. He received his bachelor's degree in political science from Oberlin College in 2004.
Beah's memoir is a must-read for anyone who wants an education in the psychological impact of war on children.—Anita Jackson-Hall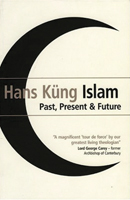 Islam: Past, Present & Future
By Hans Küng (Oneworld Publications, 2007)
Islam: Past, Present & Future provides exactly what readers expect from Hans Küng: an impressive synthesis of Western and non-Western scholarship in a dense prose style with a magisterial tone. The completion of his trilogy on the three great monotheistic faiths, Islam is urgent and necessary if one accepts Küng's stated motivation: World peace depends upon interreligious dialogue, which depends on mutual investigation into the foundations of the religions.
Küng's keen awareness of the misguided stereotypes Westerners hold toward Islam inform this balanced survey of Islamic history and theology, as he builds a case that the enduring conflict between the West and Islam predicted by Samuel Huntington need not transpire.
Although many Muslims see Islam as monolithic, Küng insists that Islam has undergone unmistakable revolutionary changes. This enables Küng to address the question: How did the world's strongest, richest, and most intellectually progressive civilization wither into the politically weak, impoverished, undereducated Muslim world of today? Küng rejects the "blame game," arguing instead that clinging to outdated paradigms led to this stagnation.
Uncritical revivals of past paradigms hold no hope. A true Islamic renewal must transcend ideological divisions in engaging democracy, human rights, and other contemporary issues. Küng's recommendations are sharp and serious, but bear the detached tone of an outsider, in stark contrast with the bombastic rhetoric he uses on the Catholic hierarchy and American foreign policy.
Islam will not supplant popular introductions by writers like Karen Armstrong or John Esposito. Küng's tome is simply too much for most non-specialists, but this comprehensive and balanced text will become a staple reference work that specialists will appreciate and practitioners of dialogue will utilize for years to come.—Brother Jason Welle, O.F.M.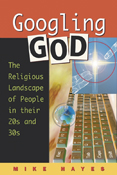 Googling God
By Mike Hayes (Paulist Press, 2007)
Mike Hayes left a 12-year career in radio to minister to young adults following an invitation from his parish priest. In his five years of ministry, Hayes has found that technology has fundamentally shaped their approach to information.
"We need always to assume that a large percentage of young adults believe that instant gratification is merely a click of a mouse or a touch of a button away and that they can apply this to every area of their life, religion included," Hayes says.
In Googling God: The Religious Landscape of People in their 20s and 30s, Hayes explains that although the current information landscape is characterized by instant access, religion and faith don't have easy answers.
Both generation X and the millennials have unique generational identities and spiritual longings. Millennials have come of age in an era of terrorism and violence, and therefore tend to find comfort in the structure of the church. Gen X-ers, on the other hand, lack specific shared world events, such as 9/11 or the Columbine shootings, and therefore value the communal experience Catholicism offers them through its tradition. Both groups are searching for God, but in markedly different ways.
Hayes is careful, however, not to oversimplify. Much of his research is anecdotal, garnered from interviews with 12 young adult Catholics on remarkably different spiritual journeys. Hayes uses each person's story to show that no "single 'type' can completely characterize either generation as a whole."
Googling God provides resources, 15 steps toward building a successful young adult ministry program, and tips on how best to reach out to both generations with the answers they are searching for in an increasingly wired world.
As a young Catholic, I found that Hayes' keen insights resonated and provided a fresh look at how the church can better serve the population that will increasingly dominate its pews.—Matt Bigelow
The Mystery of the Child
By Martin E. Marty (Eerdmans, 2007)
Don't think of The Mystery of the Child as another how-to parenting book. Martin E. Marty, one of America's foremost religious commentators (and author of Context, a newsletter published by the Claretians), is no fan of mechanistic handbooks that imply "that the child can be understood, explained, and somehow cut down to size, and thus will turn out in ways that will please adults with their various cultural preconceptions."
Of course parents have to protect, nurture, instruct, and guide their children. But even more, Marty asserts they have to be attuned to their child as "a subject and object of wonder." In other words, parents, teachers, pastors, and other caregivers need to recognize that each child—like each person—is a mystery, and they need to be open to that mystery. They need to let the child bloom in her or his unique way.
But this work of philosophy, theology, sociology, psychology, and history doesn't stop there. Marty argues that a key attribute of children is their receptiveness that, in the words of theologian Karl Rahner, takes "the form of trust, of openness, of expectation . . . of interior harmony with unpredictable forces." In this way, the child represents all those, such as the poor and social outcasts, who are receptive because they are vulnerable, marginalized, and powerless. What's good for the child is good for all at the edge.
At his book's deepest level, though, Marty plumbs the meaning for grown-ups of what he calls Jesus' "dreadful and . . . promising call" in Matthew's gospel: "Unless you change and become like children, you will never enter the kingdom of heaven" (18:3). He argues not only that adults shouldn't control their children, but also that they need to learn from children how to be open and receptive to life and to God.
The call of Jesus, he writes, isn't to leave childhood behind, but to incorporate the freshness, vulnerability, and wonder of a child through all of one's years.—Patrick T. Reardon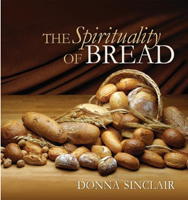 The Spirituality of Bread
By Donna Sinclair (Northstone, 2007)
Packed with beautiful photos, inspiring quotes, lyrical prose, and a half dozen recipes, The Spirituality of Bread is a cookbook for the soul, a primer on the symbolism of bread across different religious traditions, and a rich meditation resource.
A mini coffee table book in size and quality, the book is steeped subtly in religion and cognizant that God is too big to belong to only one religion. The author connects many traditions through stories and bread making.
Sinclair's grandmother made bread in a "large, white, smooth bowl" while her mother (now 93) and aunts smoked and talked around a table. Sinclair foolishly broke that treasured bread bowl on a chilly, rushed, do-too-much day. She writes, "My grandmother had died years before, but that was the day I lost her."
This book will delight both the Mary and the Martha in everyone. Each photo could be meditation; each carefully crafted phrase, a holy journey. Though Mary lacks the patience for the complicated and too fancy Christmas Tea Ring, the Martha hidden deep inside loves the Easy Bread roll recipe, which even a bread lover who stops on the way home to buy a fresh loaf could handle. It is yeast-based, but requires no kneading and takes about one third the time of regular dinner rolls to prepare.
"Bread is identity. It helps us remember who we are," Sinclair writes, echoing Mordecai's advice to Esther to remember her heritage when she confronted the king to save her people. "Indeed, bread demands peace; you cannot grow grain in a battlefield. But you can—oh yes—can distribute love with small gestures, like a loaf of bread, or smooth, white bowl to make it in."
Even if you've never experienced "the healing power of kneading a lump of dough," this book pleases the human body, mind, and spirit.—Jane Mueller Ungari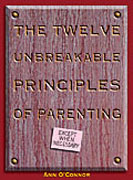 The Twelve Unbreakable Principles of Parenting
By Ann Lang O'Connor (ACTA, 2006)
Ann Lang O'Connor was helping her parish develop a mission statement when she realized that her family could use a mission statement as well. She began sifting through all the things that were important to her and her husband, and highlighting those principles that she felt were most essential to creating a strong faith foundation for their children.
"I determined that, out of the thousands of things that I could choose to focus on as a parent," she writes in The Twelve Unbreakable Principles of Parenting, "these were the principles on which I wanted to center my energy and attention, so I could let all of the rest go without regret."
The 12 principles the O'Connor family chooses to live by are: the acceptance principle, the God principle, the structure principle, the home principle, the community principle, the responsibility principle, the Earth principle, the reading principle, the art principle, the forgiveness principle, the "yes" principle, and the humor principle.
O'Connor captures a host of practical wisdom in her slim, very readable volume. With the structure principle, O'Connor advises parents to follow a regular schedule and established routines. Then when faced with the inevitable "But why?" parents have a stockpile of predetermined answers, such as: "Because we always go to church on Sunday." With the reading principle, O'Connor not only encourages more reading and less TV, she proposes allowing your children time to be bored. "If our children are constantly being entertained or distracted, they may never reach the level of boredom where their own creativity and imagination can kick in."
Learning to accept, forgive, and delight in one another are some of the many benefits her family gained by being more intentional in their daily choices. With O'Connor's graceful guidance, readers should have no problem determining what principles guide their own families toward holiness.—Patrice J. Tuohy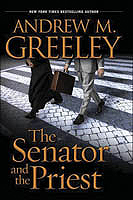 The Senator and the Priest
By Andrew M. Greeley (Forge, 2006)
Though the genre of Christian fiction has been booming in recent years, there's really no comparable "Catholic fiction" category. Catholic novelists may infuse their stories with a Catholic sensibility, but they rarely write explicitly about faith or the church. Then there's Andrew Greeley.
God, the church, and a priest are always major characters in the priest-sociologist's novels. In his latest, The Senator and the Priest, Tommy Moran, an amiable Catholic from Chicago, leaves his law practice for a career in the U.S. Senate, where he faces all the perils of today's contemporary political scene, including assassination attempts, sexual temptations from a beautiful staffer, and attacks by the religious right—in this case from his own priest brother.
Although uber-realistic characters aren't expected in this genre, Greeley's protagonists seem idealized. Moran's wife is the perfect woman: smart, sexy, modern but also 100 percent supportive of her husband. Moran may get frustrated during the campaign trail, but he always says and does the perfect thing. Their perfect children, too, don't sound like any teenagers I know. Likewise, the sex scenes, for which Greeley is often scorned for including in his novels, are pretty idealized and actually rather tame.
That's not to say that Greeley doesn't have his pulse on topics of concern to contemporary Catholics. He does, and his book sales show it. Not only do his novels deal with the everyday life of (mostly Chicago) Catholics, but recent novels have dealt with topics in the news, from the sex abuse crisis to today's political polarity.
I wish I could say Moran's "Christian" and Catholic attackers were parodies, but their scathing words unfortunately could have been taken from the headlines of recent campaigns. And I'm sure I'm not the only one who thinks the fictitious junior senator from Illinois bears a resemblance to a certain real-life presidential candidate from the same state.—Heidi Schlumpf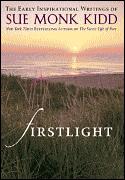 Firstlight
By Sue Monk Kidd (GuidepostsBooks, 2006)
It is not often that writers take the time to revisit their past work. Once an essay has been published they usually focus on the next project at hand. For a New York Times bestselling author, the chance to unpack the past is rare. But that is exactly what Sue Monk Kidd has done in her newest book, Firstlight: The Early Inspirational Writings of Sue Monk Kidd.
Kidd is best known for her novels The Secret Life of Bees (Viking, 2002) and The Mermaid Chair (Viking, 2005), as well as other books of inspirational writing. But it is her earliest work primarily published in Guideposts magazine that is the focus of this newest project. This collection of essays and stories offers insight into the evolution of a soul. Kidd herself writes, "The question 'Who am I?' reverberates quietly in these pages, as does a willingness to be known."
Kidd gracefully divides the book into 13 categories that give insight into the steps necessary to opening oneself to the presence of the Divine. Through chapters on "Compassion," "Awareness," "Gracious Space," and "Letting Go," among others, Kidd invites readers to dig deeper into the stuff of everyday life to see how connected each of our stories are with the soul or as she puts it, "'a soulful being together' between the reader and the author."
Kidd fans will revel in the ability to get to know her even better through the pages of this book. In the essays she reflects on her childhood, her time as a nurse, and her years as a wife and mother. But even readers who have never read any of her work will find this book a welcome companion on the journey into their own soul. Her style is simple and humble. And there is quiet inspiration to be found as she shares her stories of opening up—sometimes easily and sometimes with feet dug in deep—to the interior life that she refers to as the "firstlight"—"the moments when the light broke and your heart opened."—:Christina Zaker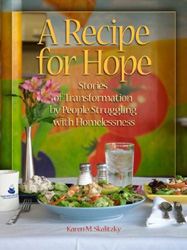 A Recipe for Hope
By Karen M. Skalitzky (ACTA, 2007)
The late Wayne Teasdale considered the homeless an opportunity for grace, and he knew many of those in his neighborhood by name. Yet the closest most of us get to a homeless person is driving by them on the exit ramp or dropping a few coins into their hand on the street. Few of us have actually heard the stories of people who are homeless.
But Karen M. Skalitzky has. A volunteer at two programs for the homeless in Chicago, she set out to record the stories of the men and women she met through the Inspiration Cafe and Living Room Cafe, which help the homeless back to self-sufficiency through food service training.
A Recipe for Hope contains sad stories, to be sure—tales of depression, addiction, dysfunctional families of origin, domestic and sexual abuse, lost jobs. One woman recounts her childhood with two alcoholic parents: "So basically from the beginning of my life, I never ever, ever, felt love. I just felt like a ... a big mistake."
But, as the title promises, there are also stories of success and of hope. One man is working to start his own florist business, thanks to recently secured housing. "If you have a comfortable place to live," he says, "you're capable of creating remarkable things."
Skalitzky lets the stories tell themselves, with minimal editing (though a few have been transformed into poetry). Some readers might have appreciated more trimming and some cleanup of grammar. But I suspect the author wanted to give these voices the dignity of standing on their own.
Through these stories, Skalitzky tries to show that the real cause of homelessness is not mental illness, as many believe, but "poverty at its worst." Almost a quarter of all homeless people have jobs. Many have children, and all have dreams. But they live so close to the edge that any misfortune pushes them over it and into homelessness. There are many solutions, but the first must be to see homelessness as a "condition, not an identity." As one volunteer points out, "Once you know somebody's story it becomes a whole different thing."—Heidi Schlumpf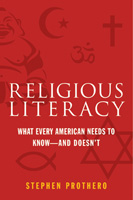 Religious Literacy
By Stephen Prothero (Harper San Francisco, 2007)
Sociologist Peter Berger once quipped that if India is the most religious country in the world and Sweden the least, then the United States is "a nation of Indians ruled by Swedes." The irony is that the average Swede may know more about religion than the average American. In Religious Literacy: What Every American Needs to Know—And Doesn't, Stephen Prothero cites surveys showing that only half of Americans can name one of the four Gospels and only one third know that Jesus delivered the Sermon on the Mount.
It was not always thus. In the 17th and 18th centuries, Americans handed down their faith to their children through a network of institutions such as households, churches, and schools. While many believe the decline of these institutions began in the 1960s, Prothero argues that the critical turning point was the 19th-century Second Great Awakening, which valued religious experience more than doctrinal knowledge.
Prothero's concern with the decline of religious knowledge is more civic than ecclesial. Without it, Americans will not be able to understand their own history, nor will they be able to understand current events—like those in Iraq—where religion plays a dominant role. His book concludes with a recommendation that schools teach religion as an academic subject.
Some will certainly find points to argue with. If evangelical Christianity stresses experience at the expense of knowledge, why do evangelicals score better on the aforementioned surveys than mainline Protestants? Catholics perusing his 84-page "Dictionary of Religious Literacy" may be surprised to learn that Vatican II was only "the second great council of the Roman Catholic Church" rather than the 21st.
But Prothero has put his finger on a genuine problem. If citizenship requires religious literacy, even more so does discipleship. Prothero reminds us of the importance of passing on the fullness of the faith we have inherited.—J. Peter Nixon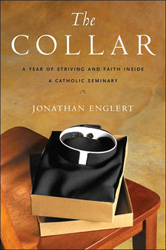 The Collar
By Jonathan Englert (Houghton Mifflin, 2006)
Journalist Jonathan Englert spent a year inside Sacred Heart School of Theology, a Milwaukee-area institution that specializes in training "second-career" priests. Englert, whose access to two other seminaries was revoked before he was welcomed as a fly on the wall at Sacred Heart, offers a compelling and candid look at the American priesthood of the 21st century.
The aspirants on whom Englert focuses are no cardboard characters. They include a divorced father, a former Marine wracked by attention-deficit hyperactivity disorder, a blind violinist torn between the altar and marriage, and a widowed granddad. Together they wrestle with everything from class projects to the demands of celibacy.
A convert to Catholicism, Englert neither aimed to be critical of the church, nor, as he writes, to "set about fashioning a saccharine vocation story. I believe that a committed priest can do an extraordinary amount of good in the world. But I also know that a vocation, as is the case of all religious experience, is rooted in the reality of the human condition and often emerges from a jagging, uneven road."
The Collar casts a bright beam on that rutted road. Englert's book succeeds because it portrays the day-to-day struggles, doubts, and small triumphs of its main characters, giving readers an authentic view of modern seminary life. And the book has a quiet urgency to it, since the United States has some 25 percent fewer priests than it did in 1965 despite a growth in the Catholic population by at least 30 percent.
Predictably the seminarians' lives are littered with the minutiae of modern life, and at times Englert gets bogged down in recounting the prosaic details. Still, this is a book well worth reading and maybe even keeping alongside the steady stream of news stories about sex-abuse scandals and Vatican intrigue. The priestly life is far more than the headlines, and Englert helps show how and why that is so.—Thomas J. Billitteri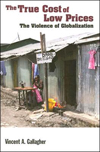 The True Cost of Low Prices
By Vincent A. Gallagher (Orbis, 2006)
As a species we go to great lengths to avoid hardship. Vincent A. Gallagher's The True Cost of Low Prices claims we could do this better if only we would share the pain.
As Gallagher explains, more than 35,000 children, each with a life unique as your own, die each day from diseases related to malnutrition. There are more slaves alive now than all those captured in Africa from the 16th through the 19th centuries. Each year a million children become child prostitutes.
The worse news is we're all complicit. We like comfort and plenty. In the U.S. 32 million teenagers spend over $155 billion annually on clothing alone. They can afford these duds because much of the rest of the world is paying the piper. Writes Gallagher: "When you purchase a toy at Wal-Mart, do you ever imagine teenage women in China working from 7:30 a.m. to 2 a.m., 18? hours a day, seven days a week, in 104-degree temperatures, handling toxic chemicals with their bare hands, and paid as little as 13 cents an hour?"
Wal-Mart is integral to an all-embracing globalization that serves the privileged at the expense of the underprivileged. This structure includes the International Monetary Fund and World Bank, among others, that have helped make the U.S. enviable at unbelievable cost to poor nations.
Since no one enjoys poverty, persuasion has to be abetted by coercion. Wars become necessary to ensure the flow of oil, for example. Few make the connection between your local mall and the decades of studying torture techniques that too frequently become necessary to keep the poor downtrodden.
The rest is done by the media, cheerleaders of globalization, reassuring us that the status quo is both inevitable and good. Among media myths: The U.S. is the most generous nation on earth. In terms of gross national income it is next to last among developed countries.—Michael J. Farrell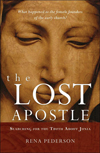 The Lost Apostle
By Rena Pederson (Jossey-Bass, 2006)
Inspired by a question in a discussion group about Junia, whom she had never heard of, journalist Rena Pederson set out on an adventure in search of the illusive female apostle of Romans 16:7. The result is this book. The name in that passage is either Junias (male) or Junia (female, with a variant, Julia). Early church commentators unanimously understood this companion of Andronicus to be a female apostle, but medieval commentators concluded that no woman could be called an apostle. From then on, opinions were divided.
In her search the author consulted an amazing number of scholars, myself included, on both sides of the Atlantic. She reports that all were helpful and interested. The search widens to include other memorable female figures of early Christianity: Phoebe (Rom. 16:1-2), Mary Magdalene, Thecla, Philip's daughters (Acts 21:8), Tabitha (Acts 9:36), Lydia (Acts 16), Damaris (Acts 17:34), Chloe (1 Cor 1:11), Claudia (2 Tim. 4:21), Euodia and Syntyche (Phil. 4:2), and others. She then sets the neglect of these early women saints within the pattern of exclusion of women in the West through the Middle Ages and beyond. But in the Eastern Church, she learned, Mary Magdalene was always an apostle, never a prostitute. Saints Andronicus and Junia are venerated together as a missionary couple.
The author also speculates about the lives of these women based on what we know about women's lives in their world: birth, education, marriage, childbearing, widowhood, and death, along with their evangelizing activities. These reflections lead to the opening of some wider questions about what gets emphasized and what gets neglected in biblical interpretation, and why.
This is a very readable introduction to some of the characters and stories about women from early Christianity that are known to scholars but are often forgotten rather than celebrated in the rest of the church.—Carolyn Osiek, R.S.C.J.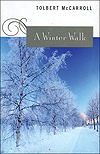 A Winter Walk
By Tolbert McCarroll (Crossroad, 2006)
Tolbert McCarroll has a thing for the O Antiphons, those great hymns of joy chanted by monks in the week before Christmas since the year 900 or so.
McCarroll, now in his mid-70s, lives at Starcross, a small lay monastic community in Sonoma County, California, which, in addition to farming, cares for children victimized by the AIDS pandemic. Born and raised a Catholic, he attended a Benedictine seminary but later in life found deep meaning and solace in the other religious traditions of the world.
He taps into those traditions throughout A Winter Walk, not as systems of belief but as human efforts to be open to life and to God. For example, "the sound of an O Antiphon still jazzes me," he writes, because the hymn helps him hold off the distractions of the world and experience the inner connections of the Christmas season.
"Simple things matter. Moses found holy ground at the burning bush. Jesus was born in a barn. The Qur'an was revealed in a cave. Siddhartha sat under a tree. The Hopi Butterfly Maiden is near a mound of corn deep in the earth. The monk finds a creator God in the rain dripping from the eaves outside his little room," he writes. All are examples of the divine and human touching.
This could come across as New Age rainbow wishes. But McConnell weaves accounts of his work with AIDS-afflicted children, his own cancer, and his sometimes imperfect interactions with his foster children and community members. These give real-life grit and traction to his ruminations on the season of winter and the dark times of any soul—and to his message, which is simple: Be open.
Whether walking in the early morning chill or maneuvering through the emotional land mines of a holiday party, be attuned to what is real and deep. Be attuned to and curious about and alert to the invisible lines that connect each of us to each other. And to all nature. And to God.—Patrick T. Reardon

Mysteries of the Middle Ages
By Thomas Cahill (Doubleday, 2006)
With its alluring subtitle, "The Rise of Feminism, Science, and Art from the Cults of Catholic Europe," the latest addition to Thomas Cahill's "Hinges of History" series, Mysteries of the Middle Ages, may be accused of riding the coattails of The Da Vinci Code. But where Dan Brown builds a thriller from a vivid historical imagination, the author of How the Irish Saved Civilization (Doubleday, 1995) produces a no less fascinating but far more enlightening trek through the Middle Ages.
Cahill's basic question is simple: How did the Romans, "the military geniuses who conquered the world and crucified without remorse any troublemaker," become the Italians, who light the Colosseum every time a country abolishes its death penalty? Cahill's answer is nothing less than an apology for Europe's Catholic heritage, in which he unearths the gifts given by the great figures of medieval Europe to the modern West. Hildegard of Bingen and Eleanor of Aquitaine shine as forerunners of feminism. Lovers Peter Abelard and Heloise prefigure a certain equality in romantic relationships. The works of Giotto and Dante mark turning points in the history of art and literature.
Cahill might be criticized for taking a "great men (and women)" approach to his subject rather than focusing on the common folk, and those he chooses are certainly well known. At the same time his lively writing and love of his subjects put them in bold relief. Despite their mythic stature, Cahill makes them believably human.
Though he focuses on Catholicism's contribution to Western culture, Cahill's "postlude" does not shrink from criticism of today's church. His indictment is sweeping and may even seem out of place. Some will find his statements regarding the sex abuse scandal shocking. At the same time, his connection of past to present, woven more subtly into the rest of the book, reminds us once again that those who forget the past, as the saying goes, are doomed to repeat it.—Bryan Cones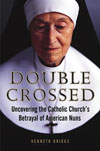 Double Crossed
By Kenneth Briggs (Doubleday, 2006)
To "double cross" is to deceive or betray a person one is supposedly helping. But that word doesn't adequately identify the situation Kenneth Briggs attempts to describe in Double Crossed, which contends that "much of the demise of religious orders at the dawn of the 21st century can be traced to the hierarchy's refusal to make good on the promise of renewal made by the Vatican 40 years before."
There is no doubt that many of the council fathers thought that women religious would be slow to enter into the changes in the church after Vatican II. Small wonder then that Vatican officials and many bishops experienced a "double take" at the alacrity, seriousness, and independence with which U.S. women religious internalized and undertook the renewal that inevitably would bring them into conflict with church officials. Their participation in the burgeoning civil rights, feminist, and peace movements, and their endorsement of the right of self-determination and the dignity and contribution of each person met with strong opposition from ecclesiastical authorities, with some notable exceptions.
Briggs' thesis is well-intentioned but somewhat simplistic in its final analysis. Although he alludes to the painful struggles over the meaning, extent, and theology of renewal as mandated by the council, it is important to note—which he neglects to do—that many of those struggles arose from commitments of the women religious themselves to differing ecclesiologies.
Although religious life has dramatically diminished in size since the beginning of the council, it is good to point out, as Briggs does through the astute reflection of theologian Sandra Schneiders, that "the most miraculous aspect of the dying process was that so many communities remained buoyant even as the roof was falling in upon them. . . . They appeared ready to let the mustard seed take its course."—Margaret Brennan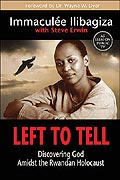 Left to tell
By Immaculée Ilibagiza with Steve Erwin (Hay House, 2006)
Left to Tell: Discovering God Amidst the Rwandan Holocaust is an inspiring story of how tragic circumstances can transform the human spirit. In devout Catholic Immaculée Ilibagiza's situation, the transformation was a deepened faith and lessons in forgiveness.
Ilibagiza, a Rwandan Tutsi, came home from college during Easter break in 1994 to spend time with her deeply religious and close-knit family. Their lives were abruptly torn apart when the Hutu militia Interahamwe and ordinary Hutu citizens began the genocide of an estimated 1 million Tutsis.
Ilibagiza sought refuge at a local Hutu pastor's house, who hid her and seven other Tutsi women in his bathroom for three months. Their hiding place was concealed by a huge wardrobe that covered the door to the bathroom in the pastor's bedroom.
Ilibagiza does a superb job of drawing you into her world by giving vivid accounts of her most terrifying moments during the genocide. Her rosary became her lifeline to God, and she prayerfully clung to it whenever she heard angry Hutus searching the pastor's house with hopes of finding Tutsis to kill. The Hutus never discovered the women's hiding place, and Ilibagiza convinces you that her prayers were a shield protecting the bathroom.
This book is a powerful guide to forgiveness. Ilibagiza's parents and two brothers were killed in the genocide, leaving only Ilibagiza and her oldest brother. She reveals her human side as she initially ponders acts of revenge and hatred, but she eventually forgave her family's murderers.
She reflects in the book: "Being in that bathroom had become a blessing for which I'd be forever thankful. Even if my parents had perished in the bloodshed outside, I would never be an orphan. I'd been born again in the bathroom and was now the loving daughter of God, my Father."—Anita Jackson-Hall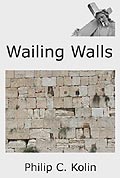 Wailing walls
By Philip Kolin (Wind and Water Press, 2006)
In his newest book of poems, Philip Kolin gives us a lost and weeping world looking for solace. In vivid and moving details, he describes individuals suffering from hunger, poverty, betrayal, domestic abuse, AIDS, rape, and molestation. Kolin takes us into soup kitchens, the aftermaths of Hurricane Katrina and 9/11, the ghettos in Watts and Cabrini Green, the run-down nursing homes, the land of "drought-baked" Somalia, and—through each scene—into the human condition. These "wailing walls" are, as his title poem says, "Paper and prayers/loamed in lamentation/Crying stones/set on memories/Trowled from broken/pieces of dreams/Sharp betrayals/Frightened futures."
His poems bring us face-to-face not only with the troubles of our world but with who we are as human beings. "Fill in/The cracks here/With your tears/And reparations," the first poem instructs. In this way, we are participating not only in God's healing of the world, but also in his healing of our individual and often fractured lives.
Thus, the book works on both a societal and personal level. A call to action often comes through deeper awareness. Deeper awareness sometimes comes through individual suffering, which may lead to a better understanding of and reliance on a suffering and loving God who calls us to action. It is not surprising, then, that many of the book's strongest poems are rooted in the personal. We see a father who "Is always able/To tie a slipknot/Around the times/I think of him/And wish I hadn't"; an uncle who "still/Yells at me/Yells at me for/Forgetting everything/He never learned."
For Kolin, hope exists as we listen to and obey God's call to help the needy. Christ's injunction "as much as you have done so unto the least of these" echoes everywhere. Kolin won an award from the Catholic Press Association for his previous collection, Deep Wonder (Grey Owl Press, 2000). With Wailing Walls, it is easy to understand why.—Marjorie Maddox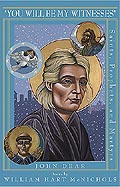 You will be my witnesses
By John Dear, S.J., illustrated by William Hart McNichols (Orbis, 2006)
"There are no final proofs for the existence of God. There are only witnesses," said the late Rabbi Abraham Heschel, quoted at the outset of this illustrated collection of spiritual biographies. "Witnesses tell us that God is alive and at work . . . that God's reign of peace and nonviolence is at hand," writes Jesuit peace activist John Dear.
This compilation of the lives of such witnesses couples mini-biographies with striking full-color icons of those profiled, all of whom devoted their lives to decrying injustices and working for peace in bold, manifold ways.
Nineteenth-century Jesuit poet Gerard Manley Hopkins, for example, pointed to Christ's presence in nature through his poetry and was "one of the first environmentalists." Jean Donovan, a laywoman martyred in El Salvador at 27, sacrificed her life to remain among the poor during a deadly civil war: "In the end, she knew a peace not of this world." Darfur native Josephine Bakhita, canonized in 2000, is lauded not only for her heroic life ministering to low-income children but also for symbolizing the plight of Africa itself. Franciscan Father Mychal Judge, the New York Fire Department chaplain who died at Ground Zero, will be remembered both for his courage and his generous and forgiving spirit.
While Dear's simply, beautifully written testaments to ancient and contemporary witnesses both teach and inspire, McNichols' moving, sometimes haunting icons offer a colorful window into the lives of exemplary (and, interestingly enough, often iconoclastic) individuals. For well-loved saints like Francis, Clare, and Thérèse of Lisieux, the icons offer fresh, contemporary portrayals. St. Francis, for example, is portrayed standing humbly and barefoot in the snow, surrounded by softly falling snowflakes. With its 31 reflections and 32 icons, this book lends itself perfectly to a month's worth of daily spiritual reflection on social justice and those whose lives embody it.—Renée LaReau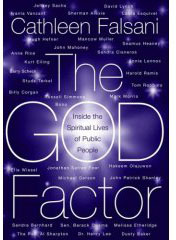 The God Factor
By Cathleen Falsani (Farrar, Strauss, and Giroux, 2006)
Readers of Cathleen Falsani's The God Factor become virtual flies on the wall as her 31 well-known interview subjects talk honestly about their spiritual beliefs. As the religion writer for The Chicago Sun-Times, she has a sense for the wide variety of religious belief and practice in our culture.
Falsani has done a great job of presenting her interview subjects as real, vulnerable people. In doing so, she reveals a lot about herself. As I read about musician Billy Corgan, director David Lynch and Sen. Barack Obama, I realized these are not the shallow celebrities one might expect. My reactions to them ranged from a desire to argue to a desire to go out with them for coffee.
The one interview Falsani longed to do, with poet Seamus Heaney, never happened. He did send a poem to her, one of special interest to Catholics.
I do find the title The God Factor somewhat strange, because many of the interviewees do not believe in God or a higher power, or they are uncertain. It actually explores "the belief factor," or how belief or non-belief affects public life. I don't know how Falsani chose her subjects; perhaps the Spirit led her. The assortment of interviewees includes rock stars, writers, a "shock jock," a minister, and a senator. All are creative people, exceptional in their fields, image-makers in many ways.
Reading the interviews gives one a glimpse of postmodernism, in that many have chosen to redefine concepts of spirituality and religious beliefs and are content in a state of ambiguity. The interviewees give witness to the shift we have seen in our society from "religion" to "spirituality." I think they can teach us traditional church adherents, especially church workers, a good deal about how this shift has taken place. I would recommend it to anyone curious about the spiritual journeys of our fellow travelers in the 21st century.—Karen Dix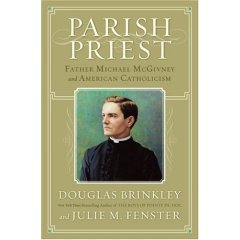 Parish priest
By Douglas Brinkley and Julie M. Fenster (HarperCollins, 2006)
The subject of this well-written social history, Father Michael McGivney (1852-1890), the Connecticut priest who founded the Knights of Columbus, is the first American-born parish priest to be considered for canonization.
The book is aptly titled because McGivney was primarily a parish priest, a shepherd who "brought the same manner to all human souls." Ordained when European immigrants faced anti-Catholic prejudice, McGivney and others recognized that "the church would have to blend into American life and cater to its particular insecurities." These pragmatic men?pastors and activists rather than theologians or intellectuals?drew the first outlines of a distinctly American Catholicism.
Parish Priest explains McGivney's seminary formation but would have benefitted from an explicit consideration of spiritual and theological influences on his thought. Instead, the authors, specialists in American history, highlight the social and economic reality of the Gilded Age.
McGivney created the Knights as a benevolent society for Catholic working-class men. His vision was both practical?"formed upon purely business principles," the Knights provided insurance payments to widows and orphans?and pastoral: The group created an attractive alternative to the popular secret societies and lodges that could weaken a man's Catholic identity.
His concern for the poor isn't unusual for a Catholic priest. What is unusual is how he responded to their needs: entering the secular arena, empowering laymen, and tempering his organizational gifts with asceticism and humility.
His ministry prefigured a contemporary model of priesthood: engagement with the world, ecumenical sensitivity, cooperation with laity. His life was fruitful not because of these accomplishments but because of fidelity to his vocation, through which was formed the capacious soul of a parish priest.—Rachelle Linner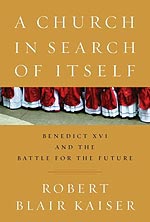 A church in search of itself
By Robert Blair Kaiser (Knopf, 2006)
Pope John Paul II departed this life amid a paroxysm of adulation. Pope Benedict XVI then sailed into office on that wave of good feeling. The crowds went home and the media went elsewhere. Into the resulting lull comes Robert Blair Kaiser's A Church in Search of Itself, which restores some of the gritty reality of the papacy.
Using the conclave as ground zero, the veteran Catholic journalist arrests the worldwide church at this crossroads. He looks behind the uncomplicated euphoria and finds, yes, politics, as if the Holy Spirit left it to the cardinals to do it their way.
He picks six candidates to represent the diversity of the church: Cardinals Roger Mahony from the United States, Cormac Murphy-O'Connor from England, Oscar Rodriguez Maradiaga from Honduras, Francis Arinze from Nigeria, Julius Darmaatmadja from Indonesia, and Joseph Ratzinger from Germany. How each rose to eminence shows how the spiritual and temporal rub off on each other. These are sympathetic portraits, yet Kaiser paints warts and all.
The author argues for a people's church as imagined by Vatican II. Instead of liberals and conservatives, he focuses on those who want change and those against it. He spares a word for most movers and shakers still at the crossroads.
Finally, inexorably, the spotlight comes to rest on Ratzinger. As doctrinal supervisor, he had no doubts about the truth and no qualms about imposing it. The emerging enemy was relativism. His pivotal 2001 document Dominus Iesus insisted the Catholic Church is "the only portal to salvation."
Ratzinger, often described as a holy and charming man, worked the system to perfection. The chapter on the conclave, subtitled "One Smart Move after Another," demonstrates, step by step, how Ratzinger orchestrated his own election to the papacy. This does not mean the Holy Spirit was not involved. But in this case the Holy Spirit was ably abetted by Benedict XVI.—Michael J. Farrell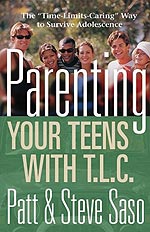 Parenting your teens with T.L.C.
By Patt and Steve Saso (Sorin, 2006)
"Not another parenting book!" said my 17-year-old when he saw me reading Patt and Steve Saso's Parenting Your Teens with T.L.C. If he had skimmed a few pages, he might have cut the Sasos some slack. I mean, they actually let their daughter get her belly button pierced.
My son's protestations aside, I suspect I'm not alone in consulting parenting books primarily when I am completely at my wits' end. One primary function of books in these moments is to reassure the anxious parent that yes, the child's obnoxious behavior at this stage is completely normal and that no, overall you aren't a complete parental flop.
On the reassurance scorecard, the Saso book earns high marks. They seem like such nice, wise people, yet they still raised a teen who refused to speak to his parents on Christmas and for weeks afterward because he didn't find the cell phone he wanted under the tree. They took their boys to Hawaii on a dream vacation only to receive stony looks and complaints for an entire evening because they "made" them to go to a luau. Such tales warm the heart of any parent of a teen.
The "T.L.C." of the book title refers not to "tender, loving care" but to "time, limits, and caring"—tools the Sasos recommend for surviving a child's passage to adulthood. They are strong on how to really listen to your kid instead of rehearsing comeback lines; how and why to discipline instead of punish; and how to reduce conflict (which is mostly initiated by parents). There's straight talk on cars, sex, alcohol, and drugs. They advise parents how to deal with disrespect, and how to be good parenting partners instead of letting the teen split them up.
But the book would be worth buying if only for "Eight Things Parents Will Never Say to Their Teens," dreamed up by the Saso kids. "Not enough of your boxers are showing; your pants need to hang lower" was my favorite.—Catherine O'Connell-Cahill
The Rosary
By Garry Wills (Viking, 2005)
This is an odd book. Consider the cover: In a vibrant, arresting detail from Michelangelo's Last Judgment, an angel uses a rosary like a rope to pull two souls up into heaven. Yet inside, Garry Wills devotes page after page to the art of Tintoretto—and only Tintoretto.
Of the book's modest 185 pages, Wills has written a bit less than half. The rest are various title pages, blank pages, pages of scripture quotations, and muddy black-and-white reproductions of 17 Tintoretto paintings of gospel scenes. Yet all 17 are also provided in the middle of the book in full, deeply nuanced color.
Even though he hasn't written a lot for this small volume, Wills offers what could be thought of as four tiny but distinctly different works. He begins with an introduction, arguing that the rosary, as a form of meditation, is in tune with other faiths and with the desire of modern people to find a personal core of spirituality.
After that, he provides a how-to for saying the rosary, including its history and those of its four prayers. Then there is a devotional in which Wills, like a retreat master, walks the reader through meditations on each of the 20 mysteries of the rosary.
But interspersed in this devotional is another work entirely—one in which Wills analyzes the Tintoretto paintings for what they have to say about the meaning and power of the gospel. This is the book's greatest value and where Wills lets his words soar with poetic wonder.
Commenting, for example, on a painting of the Annunciation, Wills writes, "The dove of the Holy Spirit plunges like a dive bomber, trailing a squadron of fighter angels." Tintoretto, he notes, paints the Ascension "as a kind of mystical explosion, the angel wings and victory palms slashing the air like shrapnel from the intense energies released from Christ's rise to the Father."
Good stuff. Darned good stuff, however odd the book is.—Patrick T. Reardon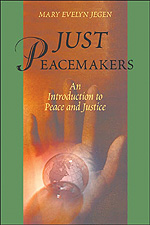 Just Peacemakers
Mary Evelyn Jegen (Paulist, 2006)
Sister Mary Evelyn Jegen, S.N.D. writes with the wisdom of a woman who has been involved in peace and justice work for years. In her newest book, Just Peacemakers: An Introduction to Peace and Justice, she makes the case that working for peace is not only a part of our gospel call but an imperative for what it means to be Christian. By defining discipleship and making comparisons between the Eucharist and social action, Jegen sets the framework for a commitment to peace and justice.
Jegen then spends time defining nonviolence as a movement unto itself and not simply the opposite of violence. She does a thorough job of laying out the development of the nonviolent movement in the church. Drawing on the U.S. bishops' 1983 letter The Challenge of Peace and their 10th anniversary followup letter, The Harvest of Justice is Sown in Peace, Jegen shows the movement as presenting "nonviolence as a morally praiseworthy position for individuals" to positioning nonviolence as central to Catholic social thought for individuals and institutions.
The final half of the book discusses ways to learn effective social action and suggests methods of social change. She offers "seven ways to work for justice and peace?.?.?.?which correspond to various personality types and preferred ways of working." This is an excellent chapter because people with a commitment to social action often feel their gifts are not enough. In highlighting these seven ways Jegen opens up the playing field and allows everyone to find a method that works.
On the whole, the book offers valuable suggestions for incorporating social action into one's life, although at times it would have been good to hear more of her own life story. Some call for transforming ourselves through practices such as "benevolent glancing?.?.?. a conscious effort to look with love on each person." Other more complex suggestions will help individuals or communities hoping to work together for peace.—Christina Zaker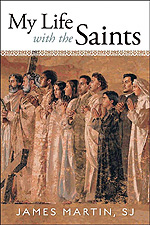 My Life with the Saints
By James Martin, S.J. (Loyola, 2006)
James Martin sailed from the top rung of his high school class to the Wharton School of Business to a perch at a Fortune 500 company, flying high in the corporate world but only skimming the surface of life's deeper meaning. A TV show on Thomas Merton, the contemplative monk, helped Martin set a new course.
He entered the Jesuit seminary at 28, ministered to the down and out, and landed as associate editor at the Catholic weekly America. Along the way, Martin became a student of the saints, finding them not only "models of holiness" but also personal companions who "struggled with the same human foibles that everyone does."
It is the saints' stories and their relevance to Martin's own spiritual journey that form the spine of this remarkably engaging book. A mix of history, memoir, social commentary, and spiritual exercise, My Life with the Saints reveals the familiar and not-so-familiar stories of a handful of holy people, from Bernadette Soubirous of Lourdes to Dorothy Day to a group of Ugandan martyrs.
Here, for example, is Merton, a onetime carouser, "proud and boastful . . . sometimes overly self-absorbed" but also a generous, peace-loving spiritual pathfinder for millions.
Here, too, is Joan of Arc, who claimed the voices of three saints instructed her to save France. "I felt," Martin writes of his own spiritual quest, "a little like Joan—not hearing voices, of course, but feeling that my attraction to religion was a crazy thing that had to be trusted anyway."
And then there is Mother Teresa, who, we learn, secretly struggled against an "interior darkness" that led her to confide a feeling "of God not wanting me, of God not being God, of God not really existing."
Martin finds power in such doubt. "[I]n the end," he writes, "the saints really are like the rest of us and struggle in every way that we do, even where we would least suspect it: in the spiritual life."—Thomas J. Billitteri



By Susan Ridgely Bales (Chapel Hill, 2005)
After attending my niece's First Communion last year, I tried to remember my own. But all I had was a vague recollection of the party afterwards. I believe we ate hot dogs and my parents gave me a bike, but then my sister says that's what she got for her First Communion, so maybe I'm mixing it up.
I'm living proof of the limitations of researching this important religious rite of passage by asking adults to remember their First Communions. Yet in scholarly circles, adult-centered analysis of religious practice takes precedence over children's experience.
But Susan Ridgely Bales wanted to know what this quintessential Catholic transition meant to actual 7- and 8-year-old First Communicants. So the Protestant grad student spent four years at two parishes in North Carolina—one an urban, African American one, the other rural, white, and Latino. Her findings make up this book.
She discovered that the kids' perceptions of what happens during First Communion clearly differ from those of the parents and catechists. While the grown-ups hoped it signified passage into membership in the universal church, the children told the author the most important part of First Communion was "getting the bread"—which she interpreted as symbolizing their movement from immature to capable members of their parish. "This difference in generational interpretations demonstrates, in part, that First Communion succeeded as a rite of passage more from the children's, than from the adults', point of view," she writes. Still, all saw it as a celebration and an opportunity to experience God's love.
This is not a "kids say the darnedest things" kind of book, although it includes some of the subjects' drawings. It is a scholarly tome, clearly a student's dissertation. Catechists, DREs, and teachers may find it useful, but it's a bit heavy for the rest of us who merely want a reminder of our own First Communions.—Heidi Schlumpf
Between the lines
An interview with Alice McDermott
A little less confrontation, a little more action
After more than 30 years of stalemate, some on both sides of the abortion debate are ready to put down their signs and start trying to work together.
Book report
Editors always seem to have their noses in a book, and the U.S. Catholic editors are no exception. Here's what we've been reading lately.
Have you read the Good Book lately
Have you read the Good Book lately
Everybody's got a hungry heart
Ending homelessness as we know it
Men in search of their souls
Men in search of their souls
Oh, the Places You'll Go
Oh, the Places You'll Go
A library of one's own
A library of one's own
Inspiration from the page
To read a book is to take a spiritual pilgrimage, says author Paul Elie in an interview with Maureen Abood. He commends four Catholic writers who have helped lead him along the way.
Read any good books lately?
From Charming Billy to Blood Bankers,U.S. Catholic editors offer up a collection of good reads for the well-read.
All abuzz about the Black Madonna
Author Sue Monk Kidd has been busy, busy, busy since the publication of her bestselling novel, The Secret Life of Bees . She tells Heidi Schlumpf that, like one of her characters, she searches for the divine mother we all need.
Visit our Bookstore!